Wrestling Menu 04-05
---
---
Tournament Results
(PIAA official Pairings posted )
(Phila Catholic League & Friends League Results)
Coach V's Individual Rankings (3/2/05)
Tom's District Links
(Check the Tournament Results on these links)
Teams with Most Falls (3/3/05)
I'm updating as quickly as possible. Please send me your FINAL records for EVERY wrestler on your team when your last wrestler is eliminated. (We hope that we don't hear until after states..BUT please those who ARE done, get to me ASAP.. THANKS
Fall Leaders (Individual) (3/4/05)
Dual Meet Scoreboard (2/21/05) Final rankings will be released after state tournament.
PIAA Individual Brackets
Tom Elling's Pennsylvania Wrestling Handbook -
A Must for Diehard Wrestling Fans and Coaches
Guest Column
(Frank Dimon)
PIAA TEAM Championships
PA Wrestling Report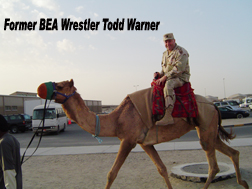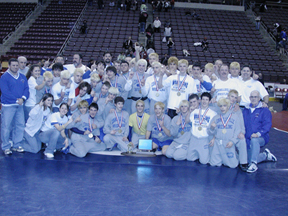 Connellsville Wins Class AAA PIAA Team Championship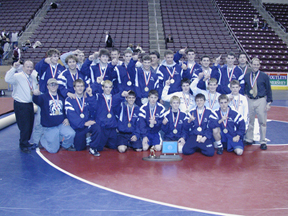 Northern Lehigh Takes Class AA PIAA Team Title

---
Updated: March 6, 2005
Get your tickets at the #1 place - BuySellTix.com

Super Bowl Game Day
Catch Big NCAA Basketball
---
I've moved the information usually here to the
Recent News page.

Check there daily for wrestling news and information not generally found on the links on this main page.
---
BRUTE Wrestling and the National Wrestling Coaches Association (NWCA) are creating a fund to assist collegiate wrestling programs that are in jeopardy of being lost and to help create new ones.
<more>
---
Advertise on this site at low costs.
Check out the ad rates.....Here
---
Pennsylvania Wrestling Newspaper
---
Carolina Beach One Bedroom Condo
Many wrestling Fans have vacationed here.
---
---
PSACs Results from Rich Herman

PSAC Wrestler-of-the-Week

Mike Spaid - Bloomsburg (Fr, HWT, Perkiomenville/Boyertown)
In his only match of the week, Spaid beat East Stroudsburg's nationally ranked heavyweight, Stanley Foster, to help clinch a dual win for the Huskies. Spaid had previously lost to Foster in the PSAC Championship by a 7-0 score, but rebounded this week to beat the league heavyweight champ by a 4-1 margin.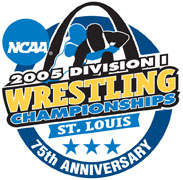 Wrestling Menu 04-05
---
---
EWL results from Clarion March 5-6--- Listen to FINALS Redzone media

National Wrestling Hall of Fame - PA Chapter
April 2005 Inductees Named.
College Scores

EIWAs at Navy - March 4-5
NWCA College Rankings

USA Today/NWCA NCAA Coaches' Poll Individual Rankings (2/22/05)
Listen to rebroadcast of Lock Haven University vs Clarion Wrestling with John Lipez and Tom Elling.
Pennsylvania Wrestling Coaches Association
Girls' Wrestling
Middle Atlantic Championships
PA State Girls' Championships
National Wrestling Hall of Fame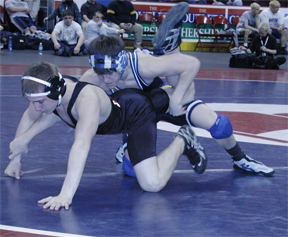 Eric Jeffries (Kiski and Mike Greck (Nazareth) in a close one.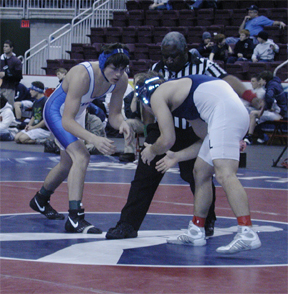 171- Joey Papay , (Northern Lehigh) Maj Sam Kulka , (Reynolds) 9-1