PIAA State Tournament Schedule

THURSDAY, MARCH 7
9 a.m.: Class 2A prelims and 1st round
1:15 p.m.: Class 2A consolation 1st round

4 p.m.: Class 3A prelims and 1st round
8:15 p.m.: Class 3A consolation 1st round

FRIDAY, MARCH 8
9 a.m.: Class 2A quarterfinals and consolation 2nd round
11:45 a.m.: Class 2A consolation 3rd round

2:15 p.m.: Class 3A quarterfinals and consolation 2nd round
5 p.m.: Class 3A consolation 3rd round

7:30 p.m.: Class 2A semifinals and consolation 4th round
9:30 p.m.: Class 2A consolation 5th round

SATURDAY, MARCH 9
9 a.m.: Class 3A semifinals and consolation 4th round
11:30 a.m.: Class 3A consolation 5th round

1:45 p.m. Class 2A Parade of Champions
2 p.m.: Class 2A finals, 3rd, 5th, 7th place matches

6:45 p.m.: Class 3A Parade of Champions
7 p.m.: Class 3A finals, 3rd, 5th, 7th place matches
Tom will be posting photos from the floor each evening on Facebook Tom's Wrestling Page (a closed group)
If interested, just request your name being added.

You can listen to the states Qtrs-Semis- and Finalson WGPA radio. http://www.wgpasunny1100.com/weekly-schedule/upcoming-events/
************
Scott Rush is the new head wrestling coach at Western Wayne. (Sean McMahon)

Congratulations to Coach Dave Marko who achieved his 300th career coaching win on Friday, Feb 8th. His record is now 302-120.
And how about Scott Gold II's record In 48 seasons, Coach Gold has a record of 485-379-7. at Oxford Area HS.
2019 Brackets for PIAA Team Championships Feb 7-8-9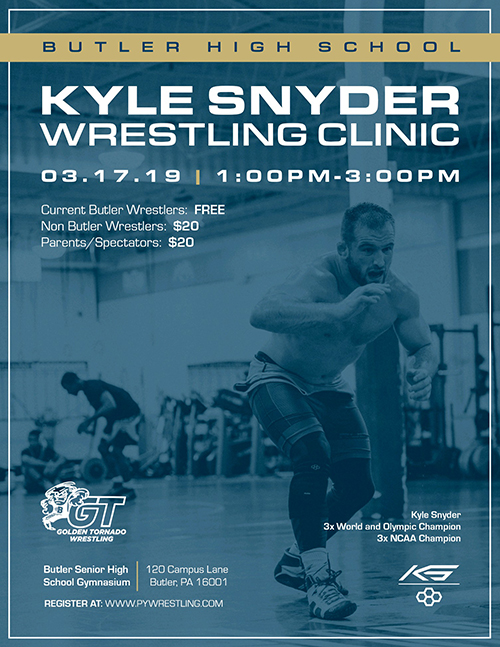 Butler High School Wrestling and Rudis are putting on a 2-hour clinic with National, World, and Olympic Champion Kyle Snyder on Sunday, March 17, from 1-3 at Butler Senior High Gymnasium. Interested individuals can register on pywrestling.com. Cost of the clinic for wrestlers of all ages, and adult spectators is $20.00. Once they go to the site, they should go down to the corresponding date in March, click on the banner, and they may register there.
Wrestling Rules via PIAA Bulletin 10/11/18

Girls' Wrestling in Pennsylvania (Chris Atkinson - PA Women's Wrestling Director - USA Wrestling - PAWF)
Women's Wrestling Newsletter February 5, 2019 - Joe Stabilito
WIN October 3, 2018
Bill Welker's book - The Sparrow's Spirit: A Champion Wrestler's Lifetime Reflections on Prayer and Perseverance - is the WINNER in the sports category in the 6th Annual Beverly Hills Book Awards Contest.
New Head Coaches
Iroquois - Jeremy Little
Williams Valley - Matt Dietrich
Bedford - Joel Easter
Norwin - Vince DeAugustine
Grove City - Wes Phipps
Seneca - Ryan Murphy
Muncy - Royce Eyer
Harbor Creek - Ron Dombkowski
Hershey - Dee Evans
Bethlehem Catholic: Rick Thompson.. Jeff Karam
Dieruff: Jordan Glykas
Emmaus: Thad Smith
Freedom: Dante Terenzio
Notre Dame: Matt Veres
Palisades: Nick LaFevre
Panther Valley - Zane Bachert
Solanco - Tony Mendez
Trinity (D3) - Joe Peretta
The Hill School - Dave Hoffman
Wilkes Open 1961
I am starting to compile all of the Wilkes Open entries/brackets/placers.
I would appreciate any and all help.. old news clips, brackets, etc.
PIAA State TEAM Updates and Summaries
Photos of PIAA TEAM Championships
Photos below
.......

Outstanding Wrestler - 2A - Gavin Teasdale, Jefferson Morgan


Outstanding Wrestler - 3A -

Sammy Sasso, Nazareth

Teague Moore - makes presentations for Keystone Wrestling Round-Up

Dave Crowell, Sammy Sasso, Teague Moore

Most Falls - 2A - Gavin Hoffman, Montoursville

Most Falls - 3A - Sam Hillegas, North Hills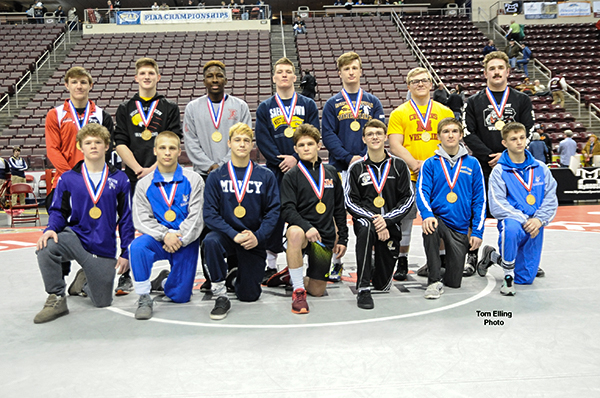 ******************** PIAA 2A Individual Champions 2018 ***************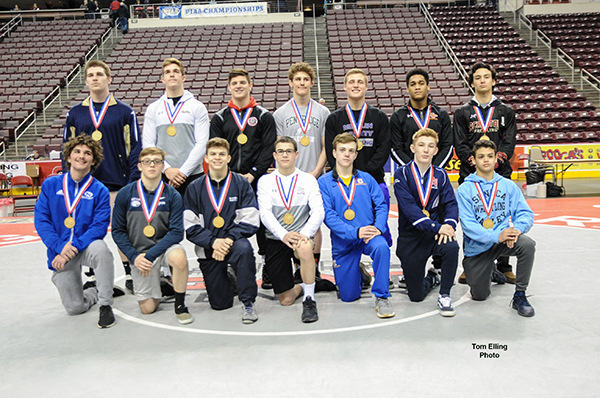 ******************** PIAA 3A Individual Champions 2018 ****************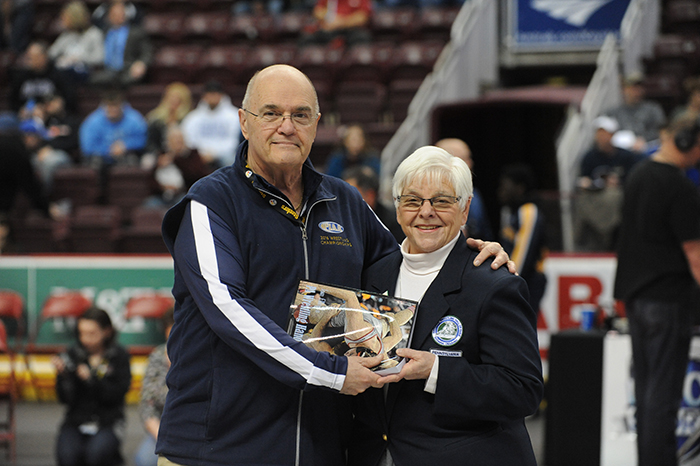 Rich Vetock of Tom's PA Wrestling presents
Wrestling USA Magazine
's
'Person-of-the-Year' award to Ann Peery Ritter.
Amateur Wrestling News' Jim Kalin has written a book about wrestling icon Mike Milkovich.
This a book all wrestling fans will want to read. Check out the press release here.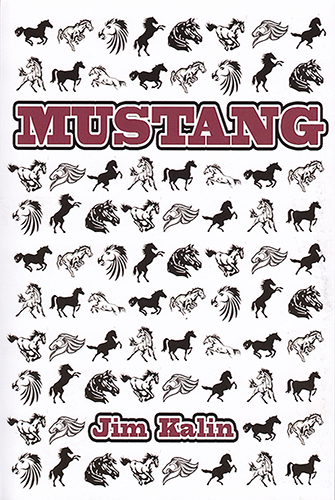 Counting your 22 Contests
A PIAA member school is permitted to participate in a maximum of twenty-two (22) Regular Season wrestling Contests based on the following method of counting Regular Season wrestling Contests:
a. One (1) Contest for each dual meet.
b. Two (2) Contests for each triangular meet or each individually or Team bracketed Tournament involving no more than 8 Teams, pursuant to NFHS Wrestling Rule 10, Conduct of Tournaments, Section 3, Tournament Brackets.
c. Three (3) Contests for each quadrangular meet, each individually or Team bracketed Tournament involving at least 9 Teams, pursuant to NFHS Wrestling Rule 10, Conduct of Tournaments, Section 3, Tournament Brackets, and each one-day Multiple School (Dual) Event or Individual Pool Event. A PIAA member school may participate in no more than two (2) Multiple School (Dual) or Individual Pool Events, excluding triangular or quadrangular meets, during the Regular Season.
d. Multiple day Combination Tournament competition points and/or multiple day Multiple School (Dual) Event competition points are the aggregate of b and/or c herein.
e. All of the foregoing must be compliant with NFHS Wrestling Rule 1, Competition, Section 4, Representation, Article 3, which provides for no wrestler to represent that wrestler's school in more than one weight class in any meet or wrestle in more than five matches (championship or consolation), excluding forfeits in any one day.
---