Willie Saylor

CK Dream Team Results: USA 37, Georgia 15
113: Alonzo Allen, Rockdale, GA dec. #4-Brian Rossi, Lockport, IL (Stanford), 9-4
120: #4-Sean Russell, Collins Hill, GA (Edinboro) dec. #5-Scotty Parker, Pennridge, PA (Lehigh), 5-2
126: #5-Ryan Millhof, Collins Hill,GA (Oklahoma) dec. #3-Zeke Moisey, Bethlehem Catholic, PA (West Virginia), 5-3
132: #12-Tyler Smith, Franklin Regional, PA (Bucknell) md. Tyler Marinelli, Jefferson, GA (Gardner-Webb), 15-7
138: #8-Seth Gross, Apple Valley, MN (Iowa) dec. Cameron Perry, Gilmer, GA (Virginia), 8-4
145: #1-Jason Nolf, Kittaning, PA (Penn State) dec. JJ Alfau, Turner County, GA, 14-8
152: #4-TC Warner, Cumberland Valley, PA (Old Dominion) md. Matt Moody, Lowndes, GA, 14-6
160: #1-Garrett Peppelman, Central Dauphin, PA (Virginia) md. Jake Henson, Pope, GA (Virginia), 15-6
170: #4-Chandler Rogers, Stillwater, OK (Oklahoma St.) wbf. Demarko Dixson, Appling, GA (Air Force)
182: #2-Bo Nickal, Allen, Texas (Penn State) md. #3-Chip Ness, Burford, GA (North Carolina), 12-3
195: #4-Nathan Rose, Sibley, MN (Minnesota) dec. #16-Chance McClure, Commerce, GA (Virginia), 5-4
220: #19-Matt Moore, Apalachee, GA (North Carolina) wbf. Sage Hecox, Harlem, IL
285: #15-Billy Miller, Perry, OH (Edinboro) wbf. MJ Couzans, Archer, GA (Tennessee St. (Football))
2014 Flo Nationals Results by Willie Saylor
War of the Roses - Williamsport April 5, 2014
Dropped by to snap some photos. Well done, Girls.
Good job, Terry Fike.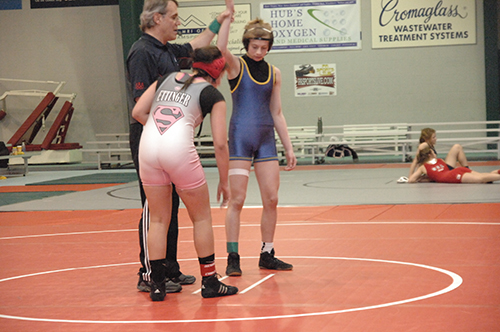 Chance Marsteller up for USA Today's Inspirational Athlete of the Year.. Vote for him at the link.

Taylor. Ruth on ballot for the Hodge Award. Cast YOUR vote.

Josh Koscheck not ready to retire from UFC yet

NCAA Brackets 2014 PA (Home State) Entries
'' Home State Entries 2013 & 2012 (Jamie Stockhausen)

USA 25 PA 16

126 - Stevan Micic Indiana MD Zeke Moisey (PA) Bethlehem Catholic 13-4
152 - Bryce Brill Illinois dec TC Warner (PA) Cumberland Valley 5-1
113 - Ethan Lizak (PA) Parkland dec Brent Fleetwood, Delaware 2-1
132 - Josh Alber Illinois dec Ian Brown (PA) Hanover 3-2
170 - Bo Nickal Texas dec Stephen Loiseau (PA) Lancaster Catholic 14-9

220 - Kyle Snyder Maryland dec Michael Boykin Coatsville 10-2

182 - Zack Zavatsky (PA) Latrobe dec Joel Dixon Oklahoma 3-1 OT

195 - Chip Ness Georgia dec Tristan Sponseller Bermudian Springs 12-9

160 - Garrett Peppelman (PA) Central Dauphin dec Ryan Blees North Dakota 4-3

120 - Dalton Macri (PA) Canon-McMillan MD Nathan Boston Kentucky 9-1

285 - Nick Nevills California dec Thomas Haines (PA) Solanco 5-3

138 - Joe McKenna New Jersey vs Solomon Chishko (PA) Canon-McMillan 3-1

145 - Jason Nolf (PA) Kittanning dec Tyler Berger Oregon 8-5

Thanks to Dan Carey reporting ... Oklahoma downs WPIAL 37-10


113 - Brendan Price Canon-McMillan dec Braden Bennett Locust Grove 11-5
120 - Jacob Findley Collinsville dec Brendan Hasson Belle Vernon 4-2
126 - Cub Yeager Locust Grove dec Dom Forys North Allegheny 8-7
132 - Tyler Smith Franklin Regional MD Justin Fletcher Bixby 12-2
138 - Will Steltzlen Collinsville dec Tyler Buckiso Peters Township 4-1
145 - Jonce Blaylock Berryhill dec Grant Fetchet South Fayette 2-1
152 - Dakota Head Tuttle WBF Steven Edwards Burrell 2:56
160 - Jacob Smith Muskogee dec Jonathon Avon North Hills 10-3
170 - Chandler Rogers Stillwater WBF Kyle Coniker Pittsburgh Central Catholic 117
182 - Lance Dixon Edmond dec Terrell Fields Valley 5-4
195 - Derek White Edmond MD Cole Macek Montour 16-6
220 - Andrew Dixon Edmond dec Jake Temple Avella 1-0 TB
285 - Shane Kuhn Kiski Area dec Trey Loveall Locust Grove 6-2

By David A. Willauer-Contributing Editor-Alexis I DuPont High School-Greenville, DE:

The District I Pennsylvania Wrestling All Stars defeated the Delaware All Stars by a 35-15 score.

PA winners were Karon Lucas Talley from Penn Wood HS at 195, Edgar Garcia at 106 from Avon Grove, Michael Marino, Garnet Valley at 120, Tyrelle Robinson from Perkioman Valley HS at 138, Noah Stevens at 145 from Coatesville HS, Cody Richmond from Boyertown at 170, Jordan Wertz at 195 from Boyertown HS, Michael Boykin from Coatesville and Tracey Green from Methacton at 285.

For Delaware, winners were Drew Davia, St. Marks at 126, Jordan Olfus, Dover at 132, Willie Davis at 152, Michael Albanese at 160,

This is the 3rd time that Delaware has met the SE Pennsylvania All Stars and PA leads the series 3 games to 1.

PA All Stars 35 Delaware All Stars 15

195-Karon Lucas Talley P dec Jake Troublefield 9-0 PA 4-0

106-Edgar Garcia, P pinned Nick Klink, 4:16 PA 10-0

120-Michael Marino, P pinned Ty Jump 3:19 PA 16-0

126-Drew Davia, D dec Phil Torresani 6-5 PA 16-3

132-Jordan Olfus, D dec Josh Nischter 5-0 PA 16-6

138-Tyrelle Robinson, P dec Michael Vietri 6-2 PA 19-6

145-Nick Stevens, PA dec Jack Munro 8-2 PA 22-6

152 Willie Davis, D dec Nick Demetrio 8-7 PA 22-9

160-Michael Albanese, D pinned Nick Giangiulio PA 22-15

170-Cody Richmond, P dec Brandon Wolfe 4-1 PA 25-15

195-Jordan Wertz, P dec Craig Logan 5-1 PA 28-15

220-Mike Boykin, P maj dec Anthony Mancini 21-7

285-Tracy Green, P dec Zack Parker 3-2

Courtesy of the Easton Express-Times: via Dean Beers

PENNSYLVANIA 36, NEW JERSEY 6

132: Andrew Sutton, PA-Pen Argyl, d. Ted Caruso, NJ-Ridge, 4-3.

182: Jose Ortiz, PA-Bethlehem Catholic, d. Cort Hotz, NJ-Ridge, 5-0.

170: Nick Cortopassi, PA-Bethlehem Catholic, d. Jordan Juliano, NJ-Voorhees, 6-1 OT.

126: Zach Valley, PA-Northampton, d. Matty Ritchie, NJ-North Warren, 6-0.

152: Josh Ortman, PA-Parkland, d. Ronnie Spera, NJ-Mount Olive, 1-0.

138: Colby Ems, PA-East Stroudsburg South, p. Moumen Akel, NJ-Somerville, 3:15.

285: Stephen Michael Johnson, NJ-Bound Brook, d. Brady Mutton, PA-Pen Argyl, 3-2 UTB

120: Ethan Lizak, PA-Parkland, d. Cody Ihling, NJ-Voorhees, 7-0.

145: Kyle Baker, PA-Easton, p. Mike Muscatello, NJ-Voorhees, 4:50.

160: Noah Klingborg, PA-Liberty, p. Joe Guzzo, NJ-North Hunterdon, 1:48.

173: Jake Kocsis, NJ-Phillipsburg, d. Bobby Fehr, PA-Northampton, 3-1 OT.

World Cup from Los Angeles Schedule

Cael Sanderson Press Conference 3/14/14 (courtesy www.GoPSUsports.com

I have an extra All-Session ticket for the NCAA's, in a Penn State section (Section 327),

that I'm trying to sell at the price paiD - $216.

Anybody interested, please contact:

Rich Martin

703-727-1822

NCAA Div II Results NCAA Div III Results

Easton's Eric Burgey (Notre Dame College OH) was crowned Div. II National Champion at 165 and Becahi grad Ziad Haddad (Kutztown Univ) was crowned National Champ at 285 (Dean Beers)


Kaleb Loht of Indian Valley won the 141# title with a 6 - 3 decision over Matt Adcock of Wisconsin - Whitewater.

Completes his junior season with a 51 - 1 record.

First NCAA champ from Mifflin County since Warren Stewart,Lewistown '81, won 1988 Div. III title for Liberty, located in VA. (Bob Hower)

Replay of the Div II Nationals

Mercyhurst Link re Div II NCAAs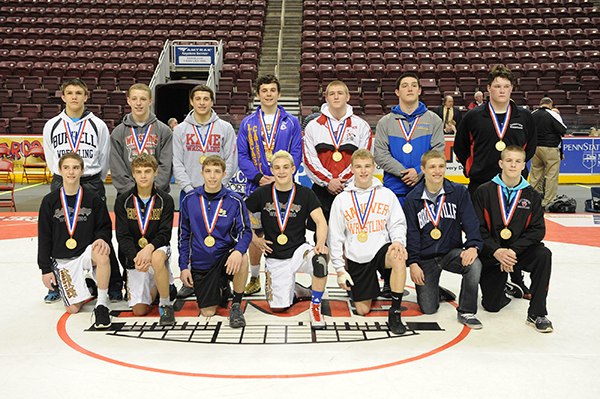 2014 PIAA Class AA Champions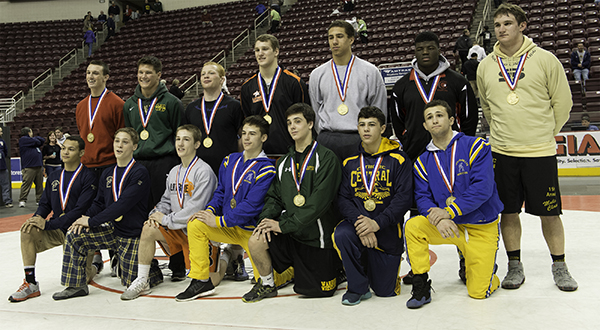 2014 PIAA Class AAA Champions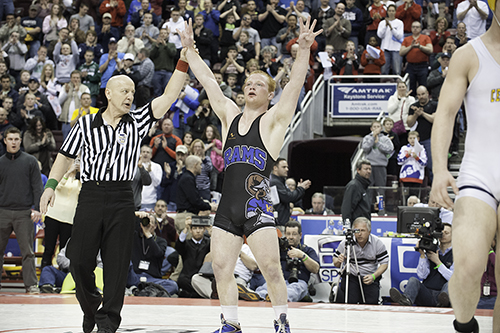 Chance Marsteller becomes PIAA 11th 4-time champ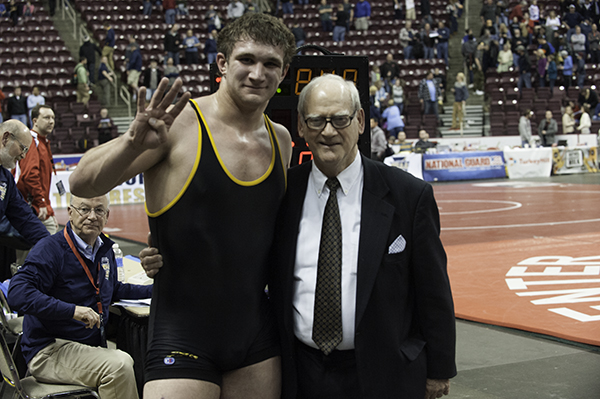 A few weights later, Thomas Haines duplicates.
Here with 2nd four-timer Jerry Maurey of Clearfield.

Fox 43 Todd Sadowski "Spotlight" on Marsteller & Haines video
Check out WRESTLING USA- Pennsylvania page
Tons more photos at http://www.pawrsl.com/gallery3/index.php/PIAA-Individual-Wrestling-Championships-2014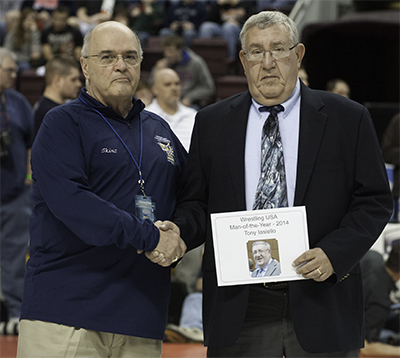 Rich Vetock presents the Wrestling USA
Person-of-the-Year award to Tony Iasiello (R)
| | | |
| --- | --- | --- |
| AAA OW - Chance Marsteller | AA OW - Jason Nolf | |
| | | |
Big Ten 2014 Brackets (Pat Donghia)
Watch http://www.nfhsnetwork.com/
Interview with Andrew Church (sent by John Harrison)
Follow the entire PIAA tournament (brackets and agate) via the web at EscapeSports.
Action Photos from matside in Hershey (Finals photos being added today (March 10th) Note: AAA Individual and Team awards coming soon.
Reynolds Wrestling Magazine - March 2014 edition by Don Shaffer
The National Preps Results @ Flo Wrestling.
NW AAA Regional Information - Paul Conklin, Director (NW AAA Regional pairings have been sent to www.escapesports.com Check there. If you see any errors (as related to the criteria) contact Paul Conklin p.conklin@bastiantire.com
Lock Haven's Sara McMann drop UFC bout to Ronda Rousey.
District 6 Brackets (Rich Vetock)
District 11 Brackets (Dean Beers)
Most brackets can be found at www.escapesports.com
NW Regional Brackets at http://liveresults.escapesports.com/PIAA/2014-PIAA-Region-NW_AAA.html
District 3 PIAA Individual Championships AAA AA
District 4/9 AAA District 9 AA
The PAIST Full Results (Wyoming Seminary captures title) Article and summary of PAISWT placers
---
Final Class AA DUAL MEET Team Rankings

Final Class AAA DUAL: MEET Team Rankings

PIAA TEAM Championships Photos

PIAA TEAM Championships 2014 (Escape Sports)

See Escape sports link for PIAA State Championship brackets

pigtail results:

North Allegheny 72, Allderdice 6; Redbank Valley 37, Greenville 28 (Dean Beers)

Fort LeBoeuf 41, Jefferson-Morgan 19; Hamburg 34, West Branch 33; Wilson (W-L) 30, CR South 26
Saucon Valley 39, Wyalusing 24; Spring Ford 38, Exeter Twp 19,; Parkland 35, Garnet Valley 20

District 1 PIAA AAA TEAM Championships (Denny Kellon)

District 2 TEAM Championships AAA & AA also PDF AAA & AA (Dist 2 site, Sean McMahon, Jay Starnes)

District 3 TEAM Championships AAA & AA (Rod Frisco) (Penn Live website)

District 4 TEAM Championships AAA & AA (Steve Gobble - Dave Ackley summaries)

District 5 TEAM Championships AA (Joe Kimmel)

District 6 TEAM Championships AAA AA (Rich Vetock)
District 7 (WPIAL) TEAM Championships AAA AA (Ken Wunderley)
District 9 TEAM Championships AAA & AA (Bob Tonkin) brackets (Bob Imhof)

District 10 TEAM Championships AAA & AA (Don Goss)

District 11 TEAM Championships AAA & AA (D11 site & Dean Beers) Report 2/1/2014 from Dean Beers
Thanks Dan Putnam for updates!

Looking for the 1997 PA. vs. US Dapper Dan CD or VCR.. Contact Tom if you have this DVD.

Kerry R. Burrows

US Women's Wrestling Newsletter

National Rankings Dual Meet and Individual: Intermat Flo Wrestling

Mark Dugan's AA State Rankings Dan Albaugh's District 10 and NW AA Reg Rankings Rob Coleman's NW AAA Rankings
(Rankings also courtesy of Don Goss's District Ten Website sent by Bob Imhof)

PA Chapter of the National Wrestling Hall of Fame to Honor 9 in April.


Secure your tickets for this event - @ TicketLeap

PWCA to Recognize 13 new Hall of Famers
Norm Palovcsik releases newest members.

Reynolds Wrestling Magazine. December 2013 Issue

New Head Coaches

Dan Brown – Montrose

Steve Mytych, Sr. – Wyoming Area

Paul Ervin – Berwick (Ernie Yates steps down at Berwick after 25 years and 325 wins)

Harold Shotwell - Nanticoke

Kevan Mowrey - Williamson
Kyle Mowrey - Montgomery

Eric Gerber - South Williamsport

Danville - Matt Bloom

Allentown Allen - Keith Smith
Allentown Dieruff - Tim Kaskis
Gary Keener - Pottsville

Dave Aungst - Claysburg-Kimmel

Ryan Cummins - State College

Steve Hluschak, Jr. has been named head coach at Northern Lehigh. Todd Herzog retired.


(thanks Sean McMahon, Dave Ackley, Dan Putnam, Sam Julian, Ryan Spring, Steve Kurzinger )

,

2014 College Commitments

(Dean Beers, Ryan Spring)

Bobby Fehr – Northampton – Hofstra

Ethan Lizak — Parkland—- Minnesota

Zeke Moisey — Bethlehem Catholic — West Virginia

Jose Ortiz – Bethlehem Catholic – Rutgers

Ryan Easter - Bedford - Bloomsburg

Austin Buttry - Chestnut Ridge - Army

Colby Ems – East Stroudsburg South – Edinboro

Zach Valley – Northampton – Bucknell

Chase Zemenak - Nazareth – Bloomsburg

Super 32 Results (Escape Sports)