2014 Coaches-of-the-Year
Class AA - Jon Mykut - Huntingdon
Class AAA - Eric Mausser - Franklin Regional
Eric Zezanski is assisting Bill Creps with the All-Academic team
President: John Reynolds
2014 PWCA Scholarship Awards
bgreenly@acfindustries.com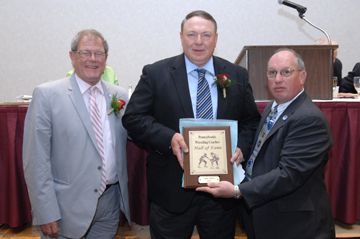 Pennsylvania Wrestling Coaches Association News & Events

Reasons for Joining PWCA
And another benefit added -
Global Access Medical will offer a 10% discount to any PWCA member school that purchases the Halo Disinfectant System.
Additional 5% goes directly to the PWCA to help with dues and promote the Wrestling Environment.
(updated 5/20/14 from Eric Zezanski & Bill Creps)
EZeznanski@crsd.k12.pa.us


PWCA Scholarship Application 2014-2015
Top Four (4) PWCA Scholarship Essays
Matthew Wilson, Andrew McRandal, William Lee, Royce Boyer
Essay 1, Essay 2 (for those who cannot open the full version above)
PWCA on facebook! And Twitter @pwca#2012pwcaconvention
Why Become a Member of the PWCA? Right HERE!

Bethlehem Catholic captures 4th consecutive PIAA Individual Team Titles
Franklin Regional earns their first AAA PIAA Team title..

| | |
| --- | --- |
| | |
| Bethlehem Catholic 2014 AA | Franklin Regional 2014 AAA |
PWCA Hall of Fame - Class of 2013
PWCA Membership Form
Thanks to John Reynolds for his assistance in getting this information to us.